Absolwentka historii ze specjalnością judaistyka i kulturoznawstwa ze specjalnością studia bliskowschodnie na Uniwersytecie Jagiellońskim. Ukończyła również studia tłumaczeniowe. W 2015 roku obroniła na Wydziale Historycznym UJ pracę doktorską. W roku 2015/2016 asystentka z doktoratem w Instytucie Bliskiego i Dalekiego Wschodu UJ. Członkini zarządu Polskiego Towarzystwa Studiów Jidyszystycznych (w latach 2016-2019 jego sekretarzyni).Członkini zespołu redakcyjnego pisma "In Geveb" (nr ISSN: 2381-5973). Stypendystka m.in. Narodowego Centrum Nauki, Rothshchild Foundation (Hanadiv) Europe, czy YIVO Institute for Jewish Research. Pasjonuje ją m.in. historia społeczna Żydów w dwudziestoleciu międzywojennym oraz historia społeczna Izraela. Zajmuje się także tłumaczeniami z języka jidysz.
Ważniejsze artykuły:

The Burmese road to Israeli-style cooperative settlements: The Namsang project, 1956–63,"Journal of Southeast Asian Studies" 2021, no. 4 [z Michałem Lubiną]
"Did You Teach Us to Do Otherwise?" Young Women in the Tsukunft Youth Movement in Interwar Poland and Their Role Models, "Aspasia" 2020, vol. 14, no. 1, s. 57-77.
East sees east: the image of Jews from Islamic countries in the Jewish discourse of interwar Poland, "Middle Eastern Studies" 2018, vol. 54, s. 114-127. 
Brider un Shvester? Women in Tsukunft Youth Movement in Interwar Poland, "Scripta Judaica Cracoviensia" 2015, vol. 13, s. 113-119.
Wandering Jews: Camping Culture and Jewish Revolutionary Socialist Youth in Interwar Poland, "Jewish Culture and History" 2015, vol. 16., no. 3, s. 242-253.
Who am I? Mizrahi Identity Discourse in Contemporary Israel, "Hemispheres; Studies on Cultures and Societies" 2014, vol. 29, no. 1, s. 47-61.
'In Sunshine and Joy'?: The Medem Sanatorium in Miedzeszyn, "East European Politics and Societies" 2014, vol. 28 no. 1, s. 49-62.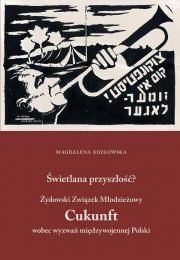 Świetlana przyszłość? Żydowski Związek Młodzieżowy Cukunft wobec wyzwań międzywojennej Polski, Kraków-Budapeszt 2016
[edycja źródłowa] S. L. Sznajderman, Wojna w Hiszpanii. Reportaż z głębi kraju, Wołowiec 2021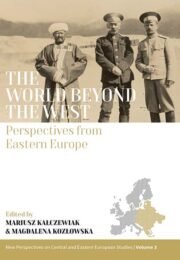 The World Beyond the West: Perspectives from Eastern Europe, red. Mariusz Kałczewiak i Magdalena Kozłowska, New York-Oxford 2022